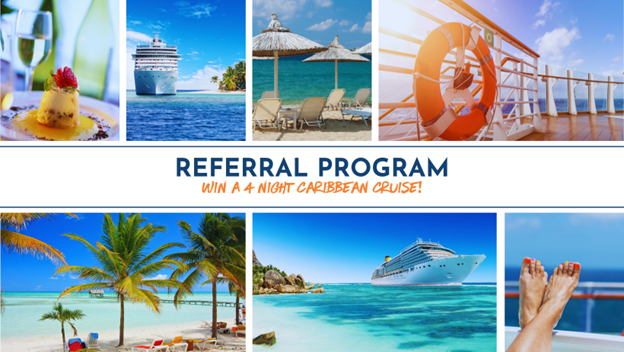 THANK YOU FOR THINKING OF US!
At Summit IT Services, referrals are the greatest form of flattery. If you know anyone with concerns about their business technology, put them in contact with us. We're looking to connect with folks who are C-level or decision-makers at companies that have 10 or more employees, are based in New Hampshire, and understand the need for technology.
WHAT DO YOU GET?
If your referral books an appointment with us, you automatically get a $50 Visa gift card. IF your referral becomes a partner with Summit, you automatically get a $500 Visa gift card, and your name will be entered to win a Caribbean Cruise! Once 5 referred businesses sign on, one lucky referee will be drawn to win a Caribbean Cruise for a family of 4! Thank you so much for your consideration, and GOOD LUCK!